Hotels in Chitwan
Our top picks
Lowest price first
Nearest to
Best reviewed
Fast facts about Chitwan, Nepal
| | |
| --- | --- |
| Accommodations | 237 properties |
| Popular hotel | Park Safari Resort |
| Popular area | Sauraha |
| Nightly rates from | $5 |
| Airport | Bharatpur Airport |
4-star hotels in Chitwan
---
Our stay at hotel was good. best part was walking safari in the park where we can see three groups rhinos.our guides were excellent.Overall the stay was good.
---
I was most pleasantly surprised by this hotel. One should not consider the properties in Sauraha to be jungle lodges - the area is too built up for that - I call it Thamel on the edge of the jungle, complete with Bob Marley and heavy rock blaring out over the forest! This was reinforced by the presence at the Hotel of a Tata incentive group complete with DJ. We escape...
---
Recently I have just been there with my young kids eldest 6 and youngest was 1 yrs old as well as my old dad and mom.I booked this resort via agoda.I try to contact them via phone and tried so many times finally made it.Ask them where is you location they ask me did you book the hotel I said yes I did.They ask me sorry we did not see your booking.I said why I have got ...
---
Luxury hotels in Chitwan
---
After 9 days travelling around Nepal, staying here was luxury! When we arrived the staff welcomed us with cold towels and fresh juice which was just what we needed. The beauty of the hotel is unbelievable- you would never think a hotel like this exists in Chitwan. The colours of the flowers and the layout is perfect! The rooms are lovely, with a fan on the balcony it ...
---
You might have heard about hybridized travel modes like "Glamping" or "Flash Packing", but I believe the Barahi Jungle lodge has conceptualized & mastered an entirely new breed of travel experience called 'Glodging". A tasteful mix of glamorous abode in the wilds combined with regulated indulgence, eco-friendly diligence, and decadent home-style pampering! This is prob...
JayaPrasann
, United States
---
I requested airport pick-up and was quote $20 per person - there was two of us. Whilst $40 was expensive, the hotel was located in a remote place (so not real option). They sent a decrepit vehicle they used for their grocery and vegetable shopping, which was in the vehicle with us. The seat belt didn't work. Most uncomfortable journey. When we left they provided ...
---
The stay at Park Safari was a perfect stay at a good price. Ashok Arya the manager was helpful and courteous. It's a new property which is maintained nicely. The property is huge and ample parking space. Breakfast is lavish. The only minus is the Wifi Connection and the finding of property. A proper signage is required. It's a beautifully made hotel and all efforts ...
---
I spent 2-3 days here in the beginning of December. If you are looking at this property, you are here for Chitwan National Park. I cannot recommend this hotel enough. Not only was the food amazing and the staff VERY helpful and friendly but their tour guide Rajan K.C. is the most amazing and helpful person ever. The first day I took a jeep tour of the park but wanted...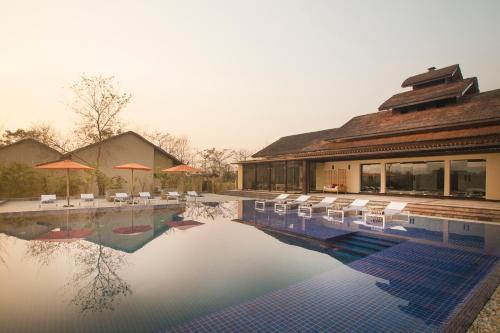 ---
This is a place where your have to spend more time to appreciate. We were in a rush and tried to fit everything in but the weather wasn't in our favor. The staff was very friendly but not completely knowledgeable. They tried to accommodate all of your wishes but I wished they were more engaging. Nevertheless, this is a very nice place to stay off the beaten path.
---
Real reviews for hotels
Nothing great about this place, except the hype. Jungle activities like Safari, river canyoning etc are very very expensive and no value for money.
Chitwan Village resort is an excellent place to stay in Saruhara. A lovely relaxed peaceful village feel place to visit in Nepal where real village life can be seen with real culture and agriculture.
A must visit to the jungle, by hiring a tour guide to bring you around to check out the Rhono. Elephant riding is a good activity to try too.
Sik Kin Ken
, Hong Kong SAR, China
Well preserved national park, we were excited by the sights of wild rhino, deer, crocs and many birds!
Chi Lin Serene
, Singapore
There is no 'city' of Chitwan National Park. Nearest public transport is at SOURAHA which is at a distance of 7 kms.
Try some activities there when you in Chitwan & it's was extremely give you the different feel of the jungle life
The park might be good, but elephant goes to few identified areas, and that is not good enough. One need to go really deep, spend most of the time in jungle to enjoy the most of the this park.
---
Chitwan hotels with breakfast
---
Frequently asked questions
What are the top accommodations in Chitwan in close proximity to Bharatpur Airport?
Verified visitors to Chitwan who stayed around Bharatpur Airport have given top rated reviews to SPOT ON 447 Image Palace Hotel, Chitwan Midtown Resort and Siraichuli Hotel.
What are the most famous properties in Chitwan?
A few of our most well-known properties in Chitwan are Green Park Resort Chitwan, Siraichuli Hotel and Hotel National Park.
What are the best hotels in Chitwan for families?
Places to stay in Chitwan that are widely ranked by families include Park Safari Resort, Green Park Resort Chitwan and Siraichuli Hotel.
What resorts in Chitwan have the best breakfast?
Verified visitors to Chitwan have given amazing reviews for the breakfast at Hotel National Park, OYO 473 Hotel Jungle Palace and Wild Adventure Resort.
What's the top community in Chitwan to stay in?
Favorite neighborhoods among foreigners staying in Chitwan include Sauraha, Bharatpur and Meghauli.
What are the most suitable places to stay located in Chitwan for business visitors?
Accommodations in Chitwan that are exceptionally rated by business tourists are Park Safari Resort, Jungle Wildlife Camp and Green Park Resort Chitwan.
What accommodations in Chitwan are exceptionally rated with regards to cleanliness?
Resortsfound in Chitwan which is exceptionally rated with regards to sanitation include Hotel Sweetland, Hotel Earth Light Sauraha and Tharu Mahal.
What are the most appropriate hotels located in Chitwan with free parking?
Resorts that has complimentary parking found in Chitwan that are highly rated include Organic Honey Bee Homestay and Organic Honey Bee Homestay.
What are the top hotels in Chitwan that have a private beach?
A resort that has a private beach found in in Chitwan that is highly rated is Ashoka Resort Pvt. Ltd.
What are the recommended hotels in Chitwan with fitness center?
Resorts that has a fitness center in Chitwan which are highly rated include Hotel Aikawa and Hotel Aikawa.
Is quarantine needed for fully vaccinated travelers to enter Chitwan?
Quarantine may be required for fully vaccinated travelers to enter Chitwan from outside the country. For up-to-date and in depth information on travel restrictons, please head over to the official websites of the travel authority or government of the country you wish to travel to, or go to here.
Explore more travel vacation rentals
More about Chitwan
Discover the Fun Facts About Chitwan, Nepal
Chitwan is a district located in the southwestern part of Nepal. The word "Chitwan" means "heart of the jungle," and the district is home to the Chitwan National Park, a UNESCO World Heritage Site. This park is famous for its one-horned rhinoceros, Bengal tigers, and Asian elephants. Chitwan is also known for its Tharu people, an indigenous community with a unique culture, language, and lifestyle. The Tharus are skilled farmers, fishermen, and hunters and have a rich tradition of music and dance. Chitwan is a fascinating destination that offers a glimpse into Nepal's diverse wildlife, culture, and history.
Top Reasons to Visit Chitwan and Explore Its Rich Wildlife
Chitwan is a paradise for nature lovers and wildlife enthusiasts. The Chitwan National Park is the main attraction of the district, covering an area of 932 square kilometers. The park is home to over 700 species of wildlife, including the Bengal tiger, one-horned rhinoceros, Asian elephant, sloth bear, and leopard. The park also has over 500 species of birds, making it a birdwatcher's paradise. Visitors can explore the park on foot, on elephant back, or by jeep safari. The park has several watchtowers and hides where visitors can observe wildlife in their natural habitat. Chitwan is also home to the Bishazari Tal or 20,000 lakes, which is a wetland area that attracts many migratory birds during the winter season.
How to Go to Chitwan and Make the Most of Your Trip
The easiest way to get to Chitwan is by air or road. The nearest airport is the Bharatpur Airport, which is about 20 kilometers away from the Chitwan National Park. The airport has daily flights from Kathmandu, Pokhara, and other major cities in Nepal. Another option is to take a bus from Kathmandu, which takes around six hours to reach Chitwan. Visitors can also hire a private car or taxi to reach Chitwan. Once in Chitwan, visitors can book a hotel or resort near the Chitwan National Park and explore the park with the help of a local guide.
Unwind with These Fun Things to Do in Chitwan
Apart from exploring the Chitwan National Park, visitors can also indulge in other activities in Chitwan. One can take a canoe ride on the Rapti River, which flows through the park and is home to several species of fish and birds. Visitors can also visit the Tharu Cultural Museum, which showcases the history and lifestyle of the Tharu community. Another popular attraction is the Elephant Breeding Center, where visitors can see baby elephants and learn about their care and conservation. For adventure enthusiasts, Chitwan offers options like zip-lining, bungee jumping, and rafting on the Trishuli River.
Why Book Your Chitwan Hotel with Agoda.com?
Agoda.com is the best platform to book your hotel in Chitwan. With a wide range of hotels and resorts to choose from, visitors can find the perfect accommodation to suit their budget and preferences. Agoda.com offers exclusive deals and discounts on hotels in Chitwan, making it an affordable option for travelers. The user-friendly interface and secure payment options make it easy and convenient to book a hotel on Agoda.com. Visitors can also read reviews from other travelers and get valuable insights into the hotel's amenities and services.
The Best Season to Visit Chitwan for an Unforgettable Experience
The best time to visit Chitwan is from October to March, which is the dry season. During this time, the weather is pleasant, and the chances of spotting wildlife are high. The winter season, from December to January, is the best time for birdwatching, as many migratory birds flock to the wetlands of Chitwan. The monsoon season, from June to September, is not recommended for visiting Chitwan, as the park remains closed due to heavy rainfall and flooding.
Expert Tips for Travelers Planning a Trip to Chitwan
Here are some expert tips for travelers planning a trip to Chitwan: - Carry light and comfortable clothing, as the weather can be hot and humid. - Wear sturdy shoes or boots for trekking and jungle walks. - Carry mosquito repellent and sunscreen lotion. - Hire a local guide to explore the Chitwan National Park, as they have in-depth knowledge of the wildlife and the park's history. - Respect the local culture and customs, especially while visiting the Tharu villages.
Where to Stay in Chitwan: A Guide to the Best Accommodations
Chitwan has a wide range of accommodations to suit every budget and preference. Some of the best hotels and resorts in Chitwan are Pemsee's Tree Town, Hotel Rhino Land, Hotel Tree Tops, Wild Horizons Guest House, and Tiger Corner Inn Homestay. These accommodations offer comfortable rooms, delicious food, and excellent service. Visitors can also choose to stay in a jungle lodge or a resort near the Rapti River for a unique experience.
What to Eat in Chitwan: A Culinary Journey through Nepal
Chitwan offers a unique culinary experience for visitors. The district is known for its Tharu cuisine, which includes dishes like dhikri, a steamed rice cake, and sukuti, a dried meat preparation. Visitors can also try other Nepali dishes like dal bhat, a lentil soup served with rice and vegetables, and momos, a type of dumpling filled with meat or vegetables. Chitwan also has several restaurants and cafes that serve international cuisine like Chinese, Indian, and Continental.
How to Travel Around Chitwan and Discover Its Hidden Gems
Chitwan is a small district that can be easily explored on foot or by bicycle. Visitors can also hire a taxi or a motorbike to explore the district. The best way to discover the hidden gems of Chitwan is to interact with the locals and learn about their culture and lifestyle. Visitors can visit the Tharu villages and witness their traditional dance and music performances. They can also visit the local markets and buy souvenirs like handicrafts, pottery, and paintings. Chitwan is a magical destination that offers a unique blend of wildlife, culture, and adventure.