Hotels in Merzouga
Our top picks
Lowest price first
Nearest to
Best reviewed
Fast facts about Merzouga, Morocco
| | |
| --- | --- |
| Accommodations | 741 properties |
| Popular hotel | Kanz Erremal |
| Popular area | Hassilabied |
| Nightly rates from | $18 |
Where to stay in Merzouga
---
Luxury hotels in Merzouga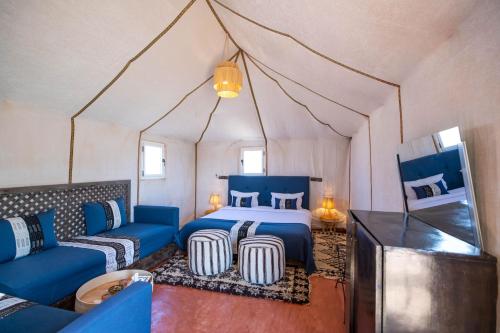 9 Excellent
Based on 8 reviews
---
We really enjoyed our stay at the golden camp. We met our host at the merzouga cafe, it was very easy to find. From there we paid 25 Euros each to take a camel to our camp, this was a 2-hour ride and so much fun. The room was gorgeous, spacious and the water was very hot in the shower. The rooms have no air conditioning. Dinner was amazing and they catered to my vegeta...
8.7 Excellent
Based on 7 reviews
---
Recommend you to check-in before 3pm so you can ride the camel to the camp and climb up to the sand dunes to watch sunset. It's stunning. The staff are all polite and helpful. I forgot my phone in the tent and the staff walked for 30mins in the desert to give it back to me. Thanksssss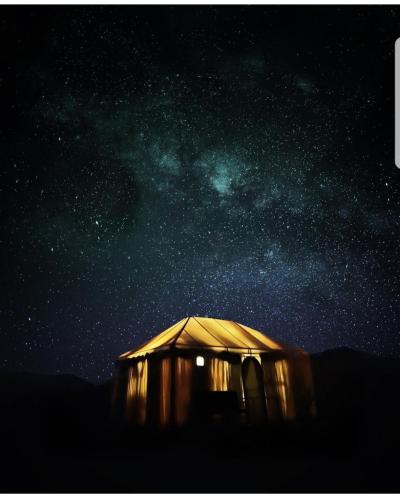 9.7 Exceptional
Based on 7 reviews
---
Camel riding, star observing, watching sunset & sunrise from desert dunes, camping in tent... those made the reason to visit Sahara, and Ali & his team helped to give us a wonderful experience. Though it's not luxury resort, Ali still makes the place clean and comfortable. Delicious dinner & breakfast. Would love to recommend to peoples visiting merzouga.
---
Merzouga hotels with breakfast
---
Frequently asked questions
What's the normal price of a hotel in Merzouga?
The typical price for a 4-star hotel in Merzouga is USD 23.
What's the average price of a resort in Merzouga this weekend?
The average price for a 4-star resort in Merzouga this Friday and Saturday is USD 25.
What are the most popular accommodations in Merzouga?
A few of our most favorite hotels in Merzouga are Kasbah Mohayut, Kanz Erremal and Sahara Majestic Luxury Camp.
What are the best resorts in Merzouga for families?
Hotels in Merzouga that are widely scored by families include Kasbah Mohayut, Kanz Erremal and Sahara Majestic Luxury Camp.
What hotels in Merzouga offers the best views?
Verified travelers to Merzouga have given exceptional reviews for the views at Kasbah Hotel Tombouctou.
What's the top local neighborhood in Merzouga to stay in?
Well-known neighborhoods amongst visitors staying in Merzouga include Hassilabied, Takojt and Ksar Tanamouste.
What accommodations found in Merzouga are highly rated with regards to facilities?
Accommodationsfound in Merzouga which is well rated for facilities include Desert Heart Luxury Camp, Sahara Desert Luxury Camp and Riad Madu.
What are the recommended hotels in Merzouga that includes free parking?
Resorts which has complimentary parking located in Merzouga which are well rated include Merzouga Relax Camp, Sahara Family camp and Erg Chebbi Luxury Tents.
Where can I reserve rooms in Merzouga that has free cancellation policy?
Yes, you'll find most hotel rooms provide free cancellation rates, with which you will receive a full refund if you cancel prior to the deadline. Filter your search by free cancellation to find flexible hotel deals in Merzouga.
What are some forthcoming holidays in Merzouga?
Holidays that are coming up in city_name include Independence Manifesto Day (1944) on 1/11/2024, Yennayer (Amazigh New Year) on 1/14/2024, and Aïd al Fitr (End of Ramadan) on 4/10/2024.
Is quarantine needed for fully vaccinated foreigners to enter Merzouga?
Quarantine is not required for fully vaccinated visitors to enter Merzouga from outside the country. For updated and detailed information on travel restrictons, please visit the official websites of the travel authority or government of the country you wish to travel to, or go to here.
What vaccines are recognized in Merzouga?
All vaccination types are currently acknowledged and approved by the national health authority of the country that includes Merzouga.
Explore more travel vacation rentals
More about Merzouga
Discover the Magic of Merzouga: Fun Facts and Reasons to Visit
Merzouga is a small village in southeastern Morocco, located on the edge of the Sahara Desert. The village is famous for its towering sand dunes, which are some of the largest in the world, reaching up to 150 meters in height. Merzouga is also known for its stunning sunsets and starry skies, making it a popular destination for stargazers and photographers. One of the most interesting facts about Merzouga is that it is home to a unique species of desert lizard called the Merzouga sand skink. This rare lizard can only be found in the area and is a fascinating sight to see. Another fun fact about Merzouga is that it is the location where the popular movie "The Mummy" was filmed. There are plenty of reasons to visit Merzouga, including the opportunity to experience the beauty and tranquility of the Sahara Desert. Visitors can take a camel ride through the dunes, go sandboarding, or simply relax and enjoy the peace and quiet of the desert. The village is also a gateway to the nearby Erg Chebbi dunes, which are a must-see for anyone visiting Morocco.
How to Go to Merzouga: Your Ultimate Travel Guide
Merzouga is located around 560 kilometers from Marrakech, the nearest major city. The easiest way to get to Merzouga is by car or bus, with many tour companies offering day trips or longer tours. The journey from Marrakech takes around 10 hours by car, but it is worth it for the stunning scenery along the way. Another option is to fly into the nearby town of Errachidia, which has a small airport with flights from Casablanca. From there, it is a short taxi ride to Merzouga.
Top Fun Things to Do in Merzouga, Morocco
There are plenty of fun things to do in Merzouga, whether you're looking for adventure or relaxation. One of the most popular activities is a camel ride through the dunes, which is a great way to experience the desert and take in the stunning scenery. Visitors can also try sandboarding, which involves sliding down the dunes on a board, or take a 4x4 tour of the area. For those looking for a more relaxing experience, there are plenty of opportunities to simply sit back and enjoy the peace and quiet of the desert. Visitors can watch the sunset over the dunes, stargaze at night, or simply take a walk through the desert and soak up the natural beauty of the area.
Why Book Your Merzouga Hotel with Agoda.com
Agoda.com offers a wide range of hotels and accommodations in Merzouga, from budget-friendly options to luxurious resorts. Booking your hotel with Agoda.com is easy and hassle-free, with a simple booking process and 24/7 customer support. Agoda.com also offers great deals and discounts on hotels in Merzouga, making it the perfect choice for budget-conscious travelers.
The Best Time to Visit Merzouga: Tips for Travelers
The best time to visit Merzouga is between October and April, when the weather is mild and comfortable. During these months, the temperature during the day is around 20-25°C, with cooler temperatures at night. During the summer months, from May to September, the temperature can reach up to 40°C, making it too hot for many visitors. However, if you do visit during the summer, be sure to bring plenty of water and sunscreen to stay hydrated and protected from the sun.
Where to Stay in Merzouga: Accommodation Options for Every Budget
Merzouga offers a variety of accommodation options to suit every budget and preference. For those looking for a luxurious experience, there are several high-end resorts and hotels in the area, such as the Sahara Majestic Luxury Camp and Kasbah Mohayut. For travelers on a budget, there are plenty of affordable guesthouses and hostels in the village, such as La Vallee des Dunes - Maison d'hotes et Bivouac. Many of these options offer comfortable rooms and traditional Moroccan hospitality, making them a great choice for budget-conscious travelers.
What to Eat in Merzouga: A Guide to Moroccan Cuisine
Moroccan cuisine is known for its rich flavors and spices, and Merzouga is no exception. Visitors to the village can enjoy a variety of traditional Moroccan dishes, such as tagine, a slow-cooked stew made with meat, vegetables, and spices. Another popular dish is couscous, which is made with small grains of semolina and served with vegetables and meat. For those with a sweet tooth, there are plenty of delicious Moroccan desserts to try, such as pastilla, a sweet and savory pastry made with chicken, almonds, and cinnamon. Visitors can also enjoy traditional Moroccan mint tea, which is served with sugar and fresh mint leaves.
Explore Merzouga: How to Travel Around and See the Sights
One of the best ways to explore Merzouga is on foot, taking a leisurely stroll through the village and soaking up the local culture and scenery. Visitors can also take a camel ride through the dunes, which is a great way to experience the desert and take in the stunning views. For those looking to explore further afield, there are several tour companies in Merzouga that offer 4x4 tours of the area. These tours take visitors to see the nearby Erg Chebbi dunes, as well as other local attractions such as the Khamlia village, known for its traditional Gnawa music.
Travel Tips for Merzouga: What You Need to Know Before You Go
Before you go to Merzouga, there are a few things to keep in mind. Firstly, it is important to bring plenty of sunscreen and water, as the sun can be intense during the day. It is also a good idea to bring warm clothing for the cooler evenings, as the temperature can drop significantly at night. Visitors should also be prepared for the sandy conditions, with sturdy shoes and clothing that can withstand the sand. It is also important to be respectful of the local culture and customs, and to dress modestly when visiting mosques or other religious sites. Overall, Merzouga is a magical and unique destination that offers something for everyone. Whether you're looking for adventure or relaxation, the stunning scenery and rich culture of the area are sure to leave a lasting impression.